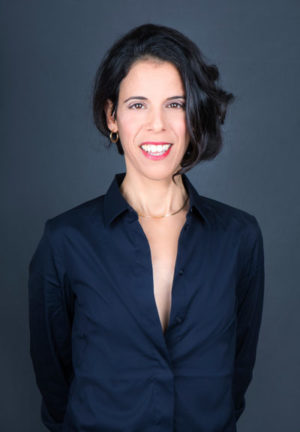 Inbal Lori
is a graduate of Jerusalem Art High School (1994) and Nissan Nativ Acting Studio (2000). Since then she has been writing and acting for television and theater and has won prizes and scholarships for that. Inbal started improvising in Tel Aviv in 2001 where she had her group
3FALLING
and ran an improvisation school in the city from 2013 to 2017. In 2015 Inbal moved to Berlin and since then she has taught and performed all over the world in places like: USA, Canada, Australia and Europe. Her performances include her solo show
Fragments of Life
and duo shows such as
CLICK
with Tim Orr (San Fransisco),
The Lorilees
with Lee White (Canada),
The Fun Fatales
with Paula Galimberti (Spain) and
Playing with the! Enemy
with Arab improviser Zaki Zikani.
More information: inbalori.com
SHOW
Inbal Lori presents DEEP DREAM
Thursday Oct. 4th, 2018 at 7.30 pm
This format created by Inbal Lori (ISR-Berlin) and Keng-Sam Chane Chick Te (Reunion Island) is played by various improvisers. The stage is an imaginary border between sleep and wakefulness, where pictures appear and fade, stories are born and developed, and the audience gets a peek to a visual fantasy led by charismatic storytelling.
---
WORKSHOPs

"TIME"

How to jump in time and be everywhere at once.
Friday Oct. 5th,  2018, 3.30 pm – 6.30 pm
Improvisation – like any other story telling arts – uses the element of time to create a variety of cool things. It allows you to jump from one time to another, to be in two different times simultaneously, to slow or fast-forward reality, to jump from the past to the future and much more! This intensive workshop will take you from being totally present in the moment to time-travelling in an epic, fast and funny way, with cinematic and theatrical qualities.
FOR ADVANCED PLAYERS ONLY
Workshop Fee     € 50
Duration     3 hours
Location     Rehearsal Room TAG – Gumpendorfer Str. 67/4, 1060 Vienna
"CHARACTERS"

– fully booked – waitlist!
Who are you?
Sunday Oct. 7th,2018, 3.30 pm – 6.30 pm

In this workshop you will explore the joy of finding truth in characters and the ability to change in a believable way. You will do so by trying out different body languages, statuses, personal rhythms and psychological states. You will explore realistic characters along side with expressive and extreme ones. By using improv scenes and long forms, you will look at the ways each character has to express itself while using its motivations, actions, relationships and more.
FOR BEGINNERS
Workshop Fee     € 50
Duration     3 hours
Location     Rehearsal Room TAG – Gumpendorfer Str. 67/4, 1060 Vienna
"PLAYING POLITICS"
How to tackle political, racial and gender issues in improvisation.
Tuesday Oct. 9th,2018, 3.30 pm – 6.30 pm
The world is changing fast and often we are not sure what we are "allowed" to do on stage and what is "inappropriate". We find ourselves facing questions like:
* How do we tackle political, racial, gender issues in improvisation?
* How do we play the bad guys and/or people who are different from us?
* What do we have to say and how do we avoid propaganda while saying it?
* How do we keep our improvisation playful and funny while tackling such topics?
If you are interested in making relevant, meaningful, thoughts evoking improvisation – this
workshop is for you!
FOR ADVANCED PLAYERS ONLY
Workshop Fee     € 50
Duration     3 hours
Location     VHS – CLUB ROOM – Königsegggasse 10, 1060 Vienna