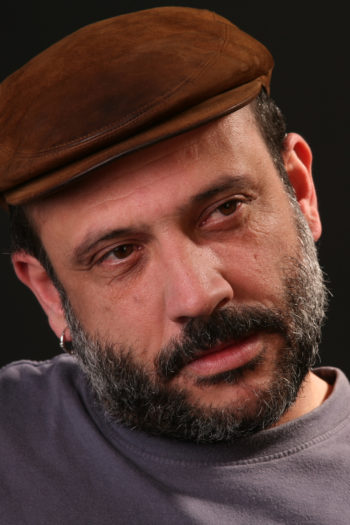 Domenico (Mico) Pugliares
was born in Sicily but has lived in Milan for the last 20 years. As strange as it might seems he holds a masters degree in Political Science. After dedicating many years to music (he's been on stage since 1985) he began devoting himself to the theatre, studying acting at
Cooperativa Theatre
in Milan and improvisation at
Teatrib
ù – a theatre and school for improvisation where he is artistic director today. He has been teaching theatrical improvisation techniques and acting around Italy, in Europe and in the USA. As an actor, author and director he takes part in many theatre productions in different theatres like the
Piccolo Teatro di Milano
. His professional path and inspiration come from merging the tools of improvisation with those of text-based theatre.
More information: http://www.teatribu.it/milano/mico-pugliares
WORKSHOP with Mico Pugliares on Tuesday 9th of October 2018, 3.30 pm – 6.30 pm
"WHERE I STAY?"
Stage yourself on stage.
Do you know where to put yourself on stage when there are other players? And when you're alone? The stage is a space to be occupied physically and this can't be done randomly. You have to know where to stand, how to relate "your area" to the "area of others" and the rest of the stage. You'll discover how to move, how to "be there" without covering the other actors and find out when it is your turn. You will learn how to explore the space for your characters and emotions and to exist without overpowering the others and try to figure out where the focus of your improvisation lies.
FOR BEGINNERS!
Workshop Fee     € 50
Duration     3 hours
Location     Rehearsal Room TAG – Gumpendorfer Str. 67/4, 1060 Vienna
Fill out the application form. Don't forget to sign it!




2. Email it to moment@dasTAG.at




3. By signing the application form you are registered for the Workshop, you accept the organizer's cancelation policy and are obligated to pay the fee within the term of payment!




FIRST COME, FIRST SERVE!
If you apply for more than one Workshop you'll get a discount!