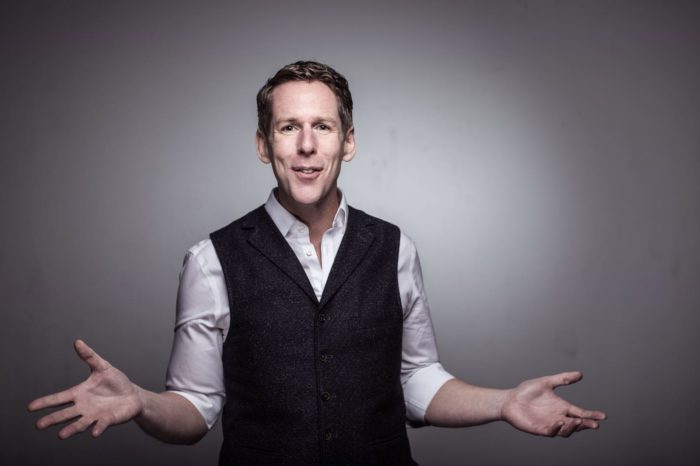 Jim Libby
Allow us to introduce you to the wonderful Jim Libby: a theatre professional, originally from the rugged coast of Maine, USA, who has made Austria his artistic home, captivating audiences with his diverse talents as an actor, director, writer, and musician.
Whether he's creating shows behind the scenes or commanding the stage and screen as a performer, Jim enchants with his incredible talent and experience. He also possesses a natural gift for engaging and entertaining as an MC, effortlessly guiding audiences through the exhilarating world of live performances. With his charismatic presence and innate ability to connect with people, Jim ensures that every moment spent in his company is truly unforgettable.
Over 25 years ago, Jim embarked on his journey into improvisational theatre as a founding member of the world-renowned theatre company, English Lovers. Their extraordinary improvisation skills, and untiring work as artistic leaders in the field, have garnered them numerous accolades, including multiple national Theatersport championships.
Jim's passion for improvisation and his dedication to the craft have made him a driving force in the European Impro-Theatre scene. He has had the privilege of collaborating with some of the finest improvisers and teachers in the world, continuously expanding his own artistic horizons.
Recognized for his creative brilliance, Jim is highly sought-after as both a creator and instructor of improvisation. He shares his expertise with diverse groups, ranging from school and community theatre ensembles to esteemed institutions such as Vienna's Max Reinhardt Seminar and Berlin's Hochschule für Schauspielkunst Ernst Busch. His ability to apply the principles of improvisation to various aspects of life, including team building and communication skills in business and education, as well as performance and creativity has garnered him widespread acclaim.
Jim's creative spirit has given birth to captivating Impro-theatre forms that have delighted audiences worldwide. His creations, including the acclaimed "Pfadfinder der Liebe" and the enchanting "Blind Dates," have earned well-deserved accolades. Other remarkable productions like "Ella Meant…," "eyeTUNES," "Frank en Femke," "EXPOSURE," and the prize winning, "The Moments Between Something and Nothing…", further showcase his imaginative talent.
Beyond his stage accomplishments, Jim has left an indelible mark on the world of improvisation through groundbreaking projects. His co-creation of the first fully improvised radio drama for the BBC, "A Time to Dance," earned him a nomination for a prestigious Sony Academy Award. Furthermore, his collaboration on "Zwischen frechem Volke" marked the first time a German State theatre embraced a fully improvised performance piece. Notably, Jim directed the first fully improvised feature film produced in Austria, "Another One Opens" (2013).
Jim takes great pride in hosting the "Moment! Festival," an event that warmly welcomes international artists, guests and students, while tirelessly working to establish Vienna as a vibrant center for improvisational performance worldwide. Whether he is teaching, developing new shows, lecturing, hosting, or enchanting audiences with his performances, Jim's warm and professional approach leaves an indelible impression.
SHOWS
Jim Libby is hosting the MOMENT! Festival.
And presents the
Thursday Oct. 5, 2023
Tickets